JUNE 21 IS NATIONAL SMOOTHIE DAY!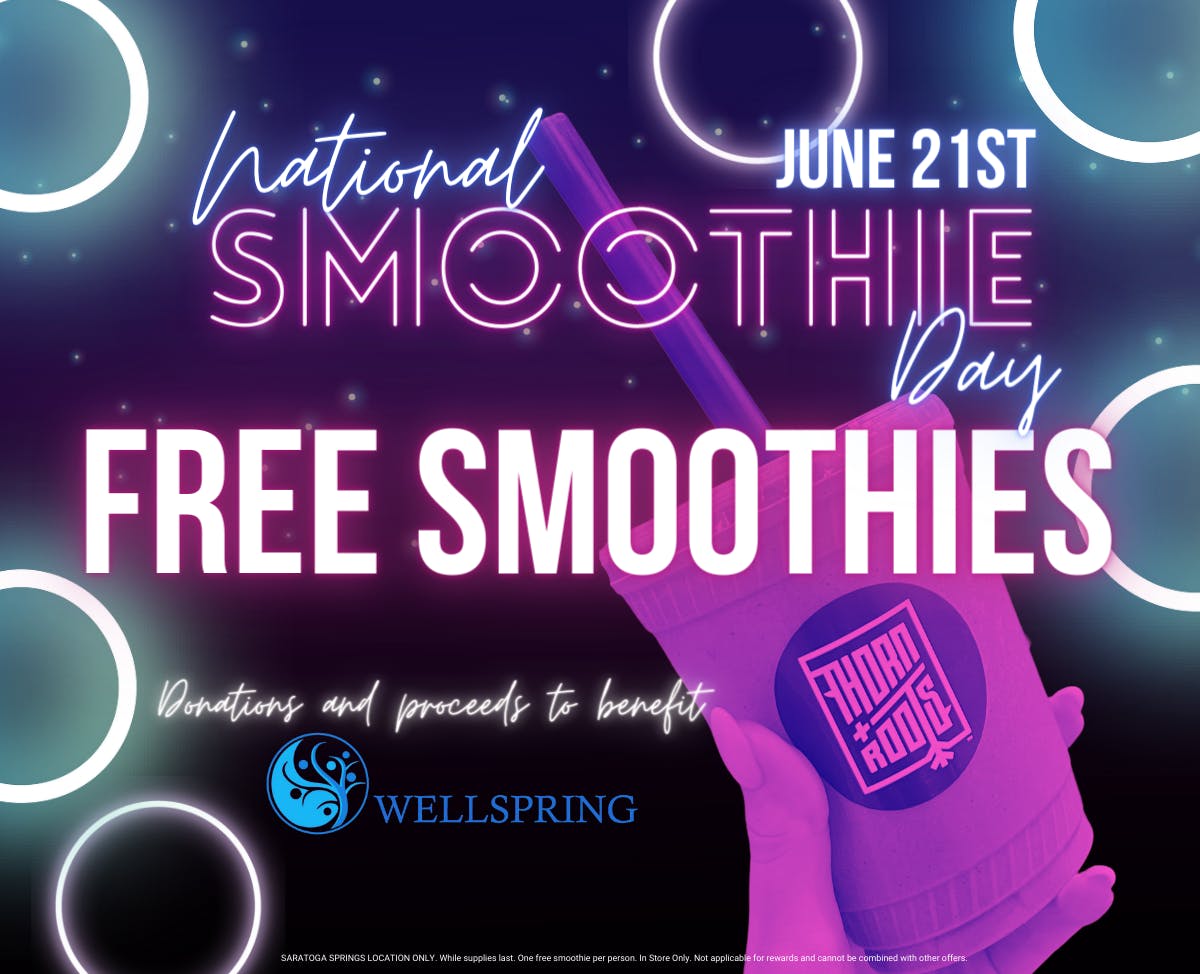 In honor of National Smoothie Day on June 21st, THORN + ROOTS, the beloved local healthy eatery in Saratoga Springs, is thrilled to announce that they will be giving out free smoothies to celebrate the official start of smoothie season and summer!
Between the hours of 7 am and 9 pm, or while supplies last, all are welcome to drop by their Saratoga Springs location at 46 Marion Ave, to enjoy a complimentary smoothie. This one-day special promotion is only available in-store and is limited to one per person, giving everyone a chance to join in the fun.
But the celebration is not just about the joy of smoothies, it's also about giving back to the community. On this special day, THORN + ROOTS will be accepting voluntary donations for Wellspring Saratoga, a vital resource for those affected by domestic violence and sexual assault in Saratoga and Washington counties.
Wellspring's mission is to support survivors and engage our community to end relationship and sexual abuse. By participating in this event, you will not only be able to indulge in a refreshing smoothie but also contribute to an organization that works tirelessly to provide safety, healing and prevention for our community members facing domestic violence and sexual assault.
"We're excited to use National Smoothie Day as an opportunity to bring our community together and to support an incredible local organization, Wellspring," said Allen the owner THORN + ROOTS. "This day will celebrate the unity and resilience of our community, and of course, the love for delicious smoothies."
THORN + ROOTS invites everyone to mark their calendars for this joyous celebration and heartwarming cause. Come join us on June 21st for a day of delicious smoothies and show your support for Wellspring Saratoga!
THORN + ROOTS is a popular eatery located in Saratoga Springs, NY. Known for their delicious and healthy smoothies, they are committed to enhancing community wellbeing through their top-notch products and various community initiatives. At THORN + ROOTS their mission is simple: providing you (yes, you) with the fastest, healthiest, and freakishly good tasting - grain bowls, salads, killer avocado toasts, acai smoothie bowls, smoothies and cold-pressed organic juices. With three locations in Saratoga Springs - New York, Burlington - Vermont, and Ridgewood - New Jersey, they know you will be addicted in all the right ways!